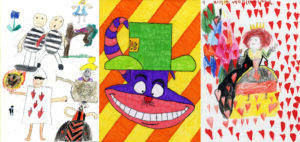 We have this year's winners of The Charlbury Street Fair Art Competition!  They are:
1st Alfie Thorpe
2nd Genevieve Walkden
3rd Jack O'Reilley
The theme this year is "Alice in Wonderland so, as you might guess, the standard was very high and difficult to judge.  Well done Alfie, Genevieve and Jack!  Prizes donated by the Charlbury Art Society will be presented at the Grand Opening of The Street Fair on Saturday 16 September.  The winning entries will be displayed in the window of Cotswold Frames.
All the other children's entries will be displayed in the Memorial Hall along with the Charlbury Art Society Exhibition on Friday evening, Saturday and Sunday.  Take a look and see if you have received and 'Highly Commended' star